Your Mouth Has

Meridians

Your energy and your mouth closely relate.  I say this because in 2016 I went to the Gerson clinic for two weeks to support a friend. This is a clinic in Mexico that specializes in healing cancer and other diseases.  They are in Mexico as big Pharma can not interfere with the success of their healing. Once the Gerson patients are stable, they send them to a Biological (Holistic) Dentist. They have found disease is tracked to a compromise in the mouth. Besides the Gerson diet and other protocols, the dentist is a huge part of their success! The dentist I went to and highly recommend is here.
I learned that the meridians in your mouth affect your health as each tooth is on a meridian point that affects your organs. So, if you have a cavity, mercury or a cap that is compromised, consider the meridians in the teeth. Mercury is reputed to have a horrible affect on your meridians and things that affect your meridians go right into your blood stream.
Your energy and meridians in your mouth. Check out the Chart below.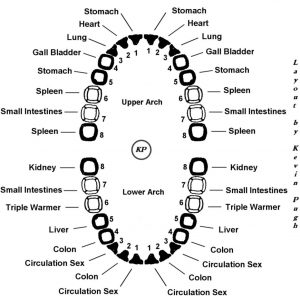 Note the meridians in the chart that affect your teeth.  Consider this, some holistic dentists will not do root canals as they say root canals can cause disease. This is because there is a dead thing in your mouth.  One good thing is that the Mexican dentists have freedom from big Pharma.
If you have a root canal or likely rot under an old cap, look to which meridian is associated with that tooth. See if you have a health issue there? Interestingly, they suggest pulling the root canal and replacing it with a bridge. They also suggest avoiding any metal implants as metals affect your energy and your health. I will say that I asked them about root canal's,  they said that if I insist on a root canal they would hesitantly do it for me, but I would have to sign a Liability Waiver so that if I get sick, I can't come back on them.
Your energy and products in your mouth
So, while at the Gerson Clinic I took advantage of being there and went to their suggested Dentist. I wasn't expecting to find much as I thought I was in good care with my Harvard graduate Dentist. Wrong! Let me back track here. For several years I started to get Chronic Fatigue. Well, this is beyond odd as the techniques in my healing practice have huge success with chronic fatigue.
They had a machine that determines the toxicity in the mouth. The machine rates the fumes from products in your mouth. Sure enough, I had a recent cap that had been made with a low-grade porcelain. The quality of the materials that dentists use affect both their profit and your health, in other words, you need to be in control of the things that go into your body. The cap had fumes that cause chronic fatigue. I had it replaced with Zirconia and I have not experienced any chronic fatigue symptoms since.
Your energy and Bleach
Finally, we need to look at how much we are bleaching our teeth even when we are told it is safe. According to my Holistic Dentist, bleach is not safe for use in your mouth. As an alternative to bleaches, you can buy natural teeth whiteners that use a charcoal blend, something that is naturally occurring and traditionally used to filter and purify water. Think about it, do you think having bleach in your mouth would be good? Homeopathic Doctors know about the energetic systems in your body and administer their medicine under your tongue as this is the most effective way too get something into your bloodstream. We know our tongue and mouth are pathways to import toxins as well as nourishment to our body. What would bleach do? I can't believe it would be healthy and I think it would affect my health.
Elle gives deep healing sessions. Schedule your free call to talk to her about your needs today.

The information contained in this website is for general information purposes only. The information is provided by "Integrated Soul Works" and while we try to keep the information up-to-date and correct, we make no representations of any kind, express or implied, about the completeness, accuracy, reliability, suitability or availability with respect to the website or the information, products, services, or related graphics contained on the website for any purpose. Any reliance you place on such information is therefore strictly at your own risk.
book a free exploration call
Offerings of House Clearings, Private Healing Sessions, Meditation and the Sophia Code® Circle Journeys