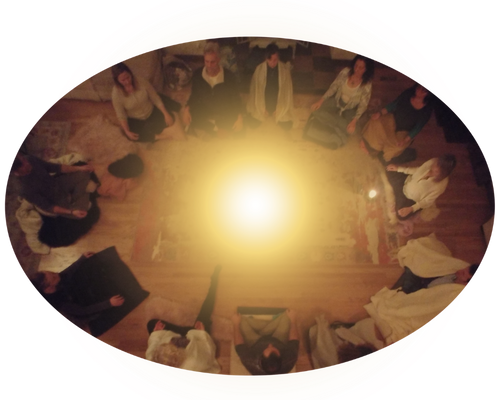 I AM THE FLAME
Zoom meditation group
An ongoing Tuesday Evening Meditation Group that dives deep into alchemical practices that deepen into experiences of the Self, Ascended Masters and Presences such as Ganesh. At the same time we cultivate intuitive vision and the chakra system at a yogic level.
At times Workshops are offered from different Teachers to deepen into the path of a Mystic.
Prerequisite:  This depends on the individual if they are ready to have a dedicated yogic meditation practice and are seeking to expand into deeper meditation practices. If you are an experienced meditator and are looking for a group to further your practices, you are welcome to schedule a call with Elle.
I'd already been meditating for over 20 years when I started with this group, and I've found that my practice, and my life, have moved to a whole new level I did not even know was possible! An additional benefit to being a member of this community is the connections I have with the people in the group: authentic, powerful, heart-centered, and soul deep.
Elle is a compassionate and generous leader. She shares her experience and extensive training throughout each meditation class. She gently leads, in a firm sort of way, wanting the best for everyone. She genuinely respects and enjoys the diversity. If you want more for yourself, she also offers one on one sessions that are amazing.
Deb Kocher
sign up to receive updates, events, opportunities and tips